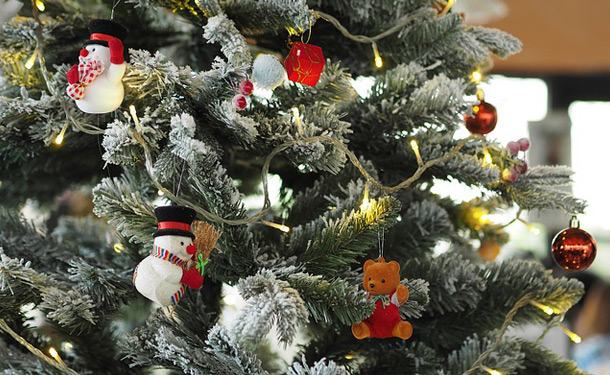 Now that we are well into autumn, the most spirited and celebrated holiday season is around the corner. Lights, roasted marshmallows, hot chocolate, and Christmas carols are the experiences and cheer we enjoy this time of year; however, the holiday cheer is not quite complete without colorful ornaments and the sappy aroma of a magnificent Christmas tree.
While some opt for a maintenance-free imitation tree, there's nothing like the beauty and fragrant aroma of a real Christmas tree. Depending on your budget and desired experience, there are several options for choosing a tree. It must then be cared for properly to last the entire holiday season. In this article we will highlight tips to make your Christmas tree selection and preservation process simple and straightforward.
Choosing a Pre-Cut Christmas Tree
Before you set out to go pick out your tree, you want to consider where you are placing the tree and its clearance from walls, appliances or furniture. Once you know the dimensions, you want decide the type and time you'd like to spend finding your perfect tree.
Part of the magic of choosing a tree is the process in which we harvest our Christmas trees. Obviously there are convenient vendors set-up at locations around your neighborhood where you can easily drive up and choose a pre-cut tree of your liking. This option is a fast and convenient way to bring a live tree into your home.
You should consider that trees sold on retail lots usually come from out of state. These trees are often tied down haphazardly and are exposed to the elements and drying winds during their transport. Also, most trees imported from other states have been cut quite some time prior, causing detriment to their longevity. Ask the vendor when his trees were cut. You can also look for browning needles that fall easily, a clue that the tree was likely cut weeks earlier or transported improperly.
Since you want your tree to maintain its lush look and forest green needles, find a retailer that is selling freshly cut trees.
Scouting and Harvesting at a Tree Farm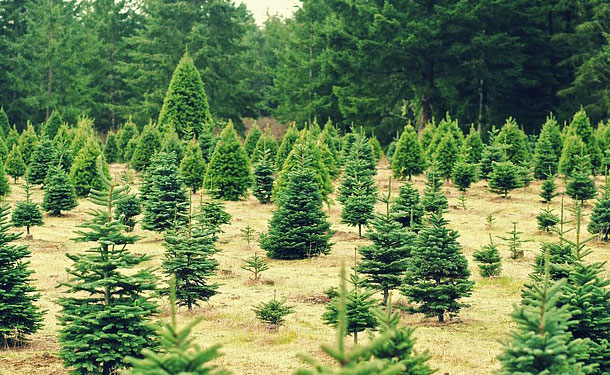 Another available option is creating memories by heading to a local Christmas tree farm. The trees have been planted and grown specifically to become holiday trees, and the farms cater to this process. Many farms have snacks, hot drinks, and treats for a pleasant experience in the welcome center before heading out to harvest.
Find a christmas tree farm near you, then the scouting and tree selection process begins with riding in a wagon or tractor to the field where you begin your quest for the perfect Christmas tree. There are several species and rows of trees that range in size, width, and price. Talk to the farm attendants and learn as much as you can about the specific care for each type of tree what makes each species different and unique.
Once you select the ideal Christmas tree to adorn your home, the fun begins. The farm attendant provides tools and you get the opportunity to cut a live tree from the ground and bring it home. This process is more involved, but likely to create a story and unforgettable memory.
Preserving Your Tree Throughout the Holidays
Once your tree has been delivered or transported to your home, you must create a suitable environment to maintain its health and integrity. The following tips are on how to keep your tree fresh and vibrant throughout the holiday season.
After the tree arrives, if you do not plan to put the tree up right away, store it in an unheated garage or other location out of the elements (wind and freezing temperatures). Once the tree is placed in its tentative location, make a one-inch cut on the base stump and place the tree in a bucket of warm water.
When you decide to bring the tree indoors to its permanent location, you will want to make another fresh one inch cut and place the tree in its base. You want a sturdy stand that holds at least one gallon of water. Larger trees need more water, but a good rule of thumb is one quart of water per inch of tree trunk diameter. For example, a four-inch diameter trunk needs 1 gallon of water in the reservoir of the stand. If the base dries out, resin from the tree will form over the cut end and the tree will not be able to absorb water, causing it to dry out quickly. Be attentive in checking and maintaining the proper water level.
Another measure that prolongs the life of the tree is using miniature lights that produce less heat and reduce the drying effect on the tree. Unplugging the tree lights at night before heading to bed is another simple way to reduce unnecessary heat exposure. Follow these tips, because if properly cared for, many fresh cut trees will last at least five weeks before drying out.
Christmas Tree Disposal and Recycling
Generally, before the New Year, most take down and dispose of their Christmas tree. Some choose to let their tree stay around longer, but you want to take down the tree before it dries out; otherwise it will drop needles all over the house, causing undue necessary cleanup.
Before hopping into your car and heading to the local dump, it's probably more convenient to find a local recycling program. Many communities will either pick up or accept drop-offs. This also helps the environment as your tree is recycled and turned into mulch or reusable chips. Visit the link for info on finding a recycling program http://treecareadvice.blogspot.com/2016/01/christmas-tree-recycling-program.html
Tree Selection and Care Tips
Now you are fully prepared with knowledge and tips for your perfect, custom Christmas tree festivities! Choose between pre-cut or farm harvesting your Christmas tree, and follow the tips and recommendations to have a long-lasting, healthy, succulent tree throughout the holiday season.