Avoid planting plain shrubs that only offer a new shade of green to your yard. Knowing which shrubs flower and planting them will offer an annual show of color to an otherwise uninteresting yard.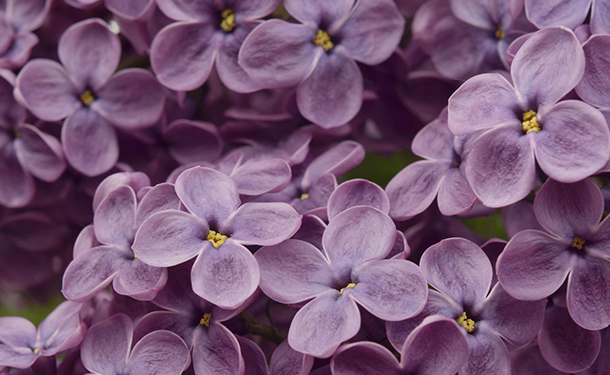 thetreecareguide.com gathered information and tips about 5 flowering shrubs that compliment your trees and are perfect for your yard.
Planting Flowering Shrubs
Shrubs are a fundamental component of every homeowner's ecosystem. They provide shade, improve soil stability, improve air quality, and provide shelter for all types of wildlife. Of course, flowering shrubs and small trees are beautiful to look at, especially when you choose varieties that offer seasonal interest to your landscape. The following 5 species were selected for their ease of care and incredible flowering habit:
1. Lilac (Syringa)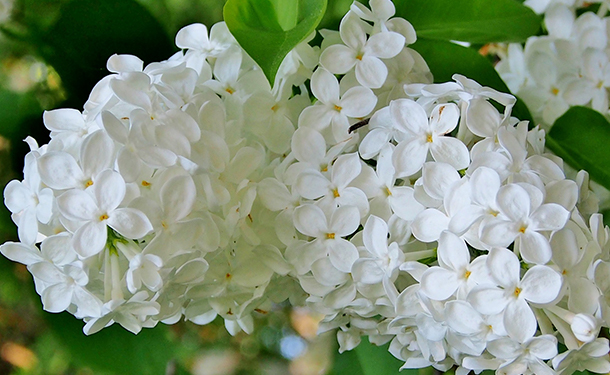 Hardiness Zones: 3-8 for most, a few hardy to Zone 2
Sun Exposure: Full sun; will tolerate some light shade
Mature Size: 5 to 15 feet tall and wide, depending on the variety
Expected Bloom Time: Late April to May; again in summer for rebloomers.
Typical Flower Colors: Purple, pink, white
On a warm spring day, you are likely to encounter the intoxicating and unmistakable fragrance of spring-blooming lilacs. Early-, mid-, and late-season varieties will extend the bloom time for a minimum of 6 weeks. Reblooming varieties bloom in spring and again in summer, lasting through the fall.
Care: Lilacs are typically low-maintenance shrubs. Overall, the general care of lilac bushes is minimal, with the exception of regular pruning.
2. Flowering Quince (Chaenomeles japonica)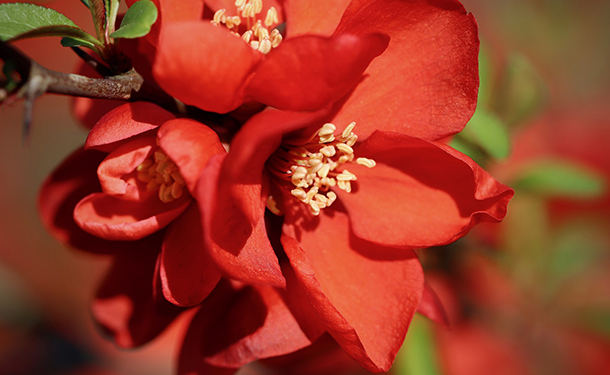 Hardiness Zones: 4-9
Sun Exposure: Full sun
Mature Size: 6 to 10 feet tall and wide. Some smaller varieties will only reach 3 to 4 feet at maturity.
Expected Bloom Time: Early to mid-spring
Typical Flower Colors: Shades of red, orange, pink, and white
Flowering quince tends to bloom earlier than other spring-flowering shrubbery, appearing as early as January in the warmer South and March in the cooler northern areas. This species is adaptable and very easy to grow. Flowering quince is also heat tolerant, handles dry conditions well, and thrives in a variety of soil types.
Care: Feed flowering quince with a slow-release, all-purpose fertilizer in early spring before new growth occurs, give your bush one deep watering per week, and watch for its unforgiving thorns when pruning it in late fall.
3. Forsythia (Forsythia)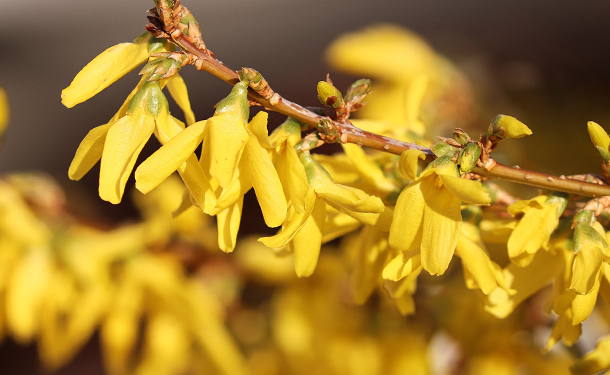 Hardiness Zones: 3-9
Sun Exposure: Full sun and partial shade (flowers best in full sun)
Mature Size: 1 to 20 feet tall and 3 to 10 feet wide, depending on the variety
Expected Bloom Time: Early and mid-spring.
Typical Flower Colors: Canary-yellow
Bright yellow forsythia flowers are a magnificent sight to behold as they announce the end of winter, the flowers cover each arching branch lasting up to two weeks. The welcoming sight of yellow flowers makes this shrub worth planting, despite the comparatively short bloom time.
Care: Your forsythia shrub will tolerate many soil types. This shrub should be top pruned after blooms have expired to maintain its form, and apply a high phosphorous fertilizer each spring for optimal growth.
4. Buttonbush (Cephalanthus occidentalis)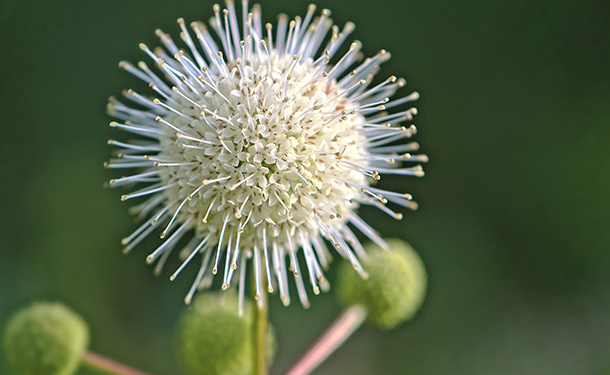 Hardiness Zones: 5-10
Sun Exposure: Full sun; will tolerate some light shade
Mature Size: 6 to 8 feet tall and wide, can grow to over 12 feet high and wide
Expected Bloom Time: Summer.
Typical Flower Colors: White and pale-pink
Buttonbush (also known as buttonwillow, pond dogwood, swamp wood, or buttonwood) is an excellent choice for a flowering shrub to be planted in "wet" conditions. This unique shrub with spiky blooms thrives in wet locations receiving constant moisture such as garden ponds, rain ponds, riverbanks, and even swamps. When this shrub is grown alongside bodies of water, buttonbush seeds will typically attract geese, ducks, songbirds, and butterflies. Buttonbush will also attract deer.
Care: Buttonbush tolerates a variety of soil types and doesn't require pruning. If your buttonbush shrub becomes unruly, you can prune it to the ground in early spring. This is a relatively fast-growing species.
5. Rhododendron (Rhododendron)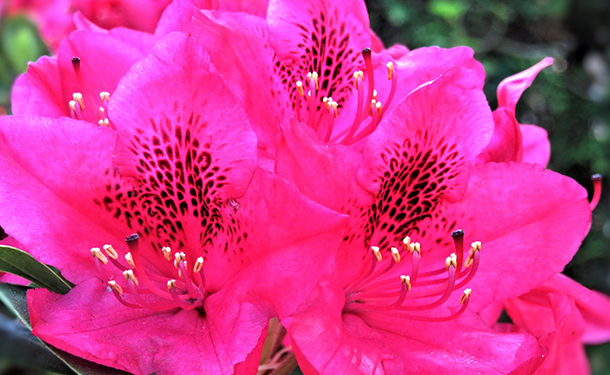 Hardiness Zones: 5-8 for most, a few hardy to Zone 2
Sun Exposure: Partial shade
Mature Size: 1.5 to 20 feet tall, depending on the variety
Expected Bloom Time: Mid-spring but may deliver an early or late-blooming depending on soil and weather conditions.
Typical Flower Colors: Pink, white, purple, crimson, and yellow
This evergreen flowering shrub is the national flower of Nepal and the state flower of West Virginia and Washington. It boasts blooms in whites, yellows, pinks, and purples, and is commonly seen in woodland parks and gardens. Rhododendron also makes for beautiful hedges in residential or commercial landscaping and thrives under a canopy of oak or pine trees.
Care: Your rhododendrons should be planted in moisture-retaining but well-draining, loamy soil with a pH of 4.5 to 5.5. Mulch plants every spring with 2 to 5 inches of pine bark chips or pine needles to protect shallow roots, and prune to remove wilted flowers and to remove dead wood.
Blooming Shrubs for Your Landscape
In this article, you discovered species information and care advice for five beautiful blooming shrubs for your diverse landscape.
Choosing the correct shrubs for your yard is vital for healthy growth and abundant flowering, which can significantly increase curb appeal and property value.
Planting random bushes in your yard may result in overgrowth, excessive maintenance, and an ugly, unruly-looking yard.
Sources:
canr.msu.edu/news/lilac_an_old_fashioned_favorite_shrub
plants.ces.ncsu.edu/plants/chaenomeles-japonica/
extension.umn.edu/trees-and-shrubs/forsythia
hgic.clemson.edu/factsheet/common-buttonbush/
ucanr.edu/blogs/blogcore/postdetail.cfm?postnum=41369